Is your License going to be Suspended, or has it already been Suspended? If so, much can be done to restore your drivers license or prevent the suspension in the first place.
A driver's license suspension can cause great economic consequences if not handled appropriately by an experienced drivers license restoration attorney. Some traffic violation convictions that cause Suspensions carry jail time in addition to the Suspension itself. Furthermore, PennDOT provides their own suspensions in cases of lack of financial responsibility (insurance), lack of payment of fines, or failure to respond to court.
Let Bucks County Attorney Eugene Gitman analyze your unique situation and provide you with a free assessment. If you are facing a conviction that carries a Suspension, retaining an experienced Attorney early in the process will go a long way towards mitigating the potential costly implications of losing your right to drive.
At our law firm, we defend people against the full range of Traffic Violations, offering intelligent, aggressive representation. We have had numerous successes within the Magisterial District Court and the Courts of Common Pleas in arguing for the restoration of our clients' appeal rights and driving privileges.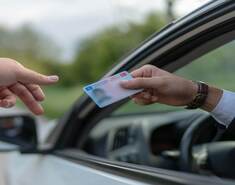 Restoring Your Driving Privileges
We begin each free assessment by obtaining a copy of your driving record and if your License is already suspended, your Restoration Requirements Letter.
We will obtain these records at no cost to you and advise you of what can be done to save or Restore your Driving Privileges. Begin the free assessment process now by contacting us. Call 215-660-4411.
Below are some reasons as to why your License might have been Suspended:
Certain Traffic Offenses
Certain Criminal Offenses
Failure To Meet Obligations
Acquiring Too Many Points
Dealing with the DMV is a confusing and frustrating process. With a License Suspension case, it is essential to have an experienced Attorney handle your case. We spend a great deal of time researching law changes and are current with DMV Driver License policies.
Each case is unique, and therefore, an experienced and aggressive Drivers License Suspension Lawyer can help to restore your driver's license. Call our Bucks County law firm at 215-660-4411 anytime to set up your free consultation. You can also complete our online contact form to get started.
In many cases, our free initial consultation can put you on the right track towards restoring your value driving privileges.
Related Practice Areas: